Headstation's Network Signage Player is a small, networked, low-cost media player enabling Tour Operators and Tour Agents centrally manage their digital signage whether it is large tiled commercial video walls or just single retail LCD screens .
All product content is networked and managed centrally allowing instant distribution and content control across all your business locations. While the Headstation product content is centrally stored on your own business's own in-house content servers or external services such as DropBox or Google Drive, content in each location is locally cached for maximum presentation performance and minimal network traffic.
With content locally cached, it can then be streamed locally to multiple devices including video walls, digital signage, in-store apps and large-size retail touch screens within your Tour Shop or Operations reception. Streaming can be extended to the Headstation consumer app allowing your customers to download links to the content in your shop and access after they have left your location with options to further share content with others ... and ALWAYS link back to your store.
Networked Signage Player
Each screen or video wall have a small, wall-mount, low-cost player attached caching content from a central location or directly uploaded to the player from your laptop. The server unit is normally mounted behind or near its screen and can be managed remotely from a central content management system or just locally using a mobile device.
Each network player have built-in Web Browser based software enabling your to play videos on-demand onto your screens. Once the on-demand video has finished playing, the device automatically revert back to scheduled content.
The server comes with Ethernet and Wifi network ports configurable for manual IP addresses or DHCP. It also have specialised beacon hardware enabled for the consumer Headstation app to sense when the consumer mobile is close to the screen.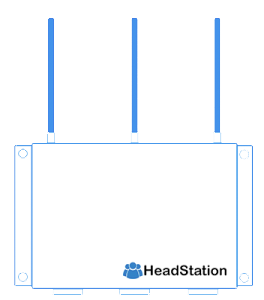 Central Content Management Software
The Content Management software enables your business to manage multiple video walls and digital signage. It provides tools for centrally manage all your screens regardless of their geographical location including remote screen/player configuration and content scheduling. Headstation software uses Third-party storage like iCloud, DropBox and Google Drive to store the videos.
Up and running in 3 easy steps:
Connect the player to your LCD Panel and power up the player.
Use the Headstation software to create a Screen and pair it with your new network player.
Create an Event in the software and select free video content from the Public library and the player will start.
Free video content from local Tour Operators








These are just some of the Tour Operators currently participating with their video content. If your operator is not in the library, just get them to create an account and upload!
Building Video Walls
Video walls are a matrix of LCD screens tiled together in whatever pattern suits your wall. Each LCD is connected to a small node server which in turn is connected to a node controller.
We recommend Panasonic 49" commercial 24/7 LCD Panels. Each is 1078x608mm. Content can be automatically scheduled on to the video wall using centralised schedulers or launched on-demand using in-store app tools. Content is played using the whole matrix as a single screen.
Check out the Time-Lapse video when we built the wall in this popular Cairns Tour shop.

Pricing
Networking the players in your shop or uploading content for distribution is charged on a per day, per item subscription basis. No long-term contracts. Typically, you purchase credit blocks using your credit card which is used to update your account balance daily. Once the credit block is getting low, you will be notified.
A per day subscription enables the tour shop and tour operators to manage long-term persistent content and also short term promotion paying just for usage only.
Uploading Content $1/video/day
Upload video and html content on the Headstation network making it available to be played on remote video walls, tour shop displays and apps is $1/video/day.
The video content is made available on the public library and can be access by unlimited remote screens/players.
Network Screen $1/screen/day
Registering your screen/network player is $1/screen/day. This gives the shop / operations centre access to unlimited content in the Headstation public library for scheduling on your in-shop display.